Joined

May 19, 2020
Member Number

218
Messages

376
Loc
Does anyone have any knowledge on outdoor speakers? @Projectwin
I have a fantastic patio located between my shop and my house. When i put in the stero in the shop, i got an amp that had a second set of outputs so i could put 2 speakers on my patio. At the moment I have just been opening that side door and cranking the tunes in the shop. House is to the right, shop is to the left.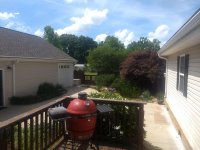 I came down to two different speakers Polk atrium 4 and Polk OS70
https://www.amazon.com/gp/product/B0...KIKX0DER&psc=1
https://www.amazon.com/POLK-AUDIO-AM.../dp/B00R81X5A6
I dont like that the Atrium 4 only go down to 75hz min whereas the OS70 go down to 40hz. I was not planning on putting a woofer outside, this isnt a concert hall, just a place i would like to be able to listen to decent quality tunes.
My big issues is size. OS70: 18x14.5x11 vs Atrium 4: 9x6x7
I am wondering if the OS70 might look ridiculous under the soffits of my shop.
Does anyone have any advice on this one? Custom speaker boxes up in the shop soffits?

Last edited: