Racing Slipper Enthusiast
Joined

May 20, 2020
Member Number

694
Messages

380
Loc
Luck wished, how did it go?

My wife and I went for a 2 up ride on Saturday, first time in a long while she felt comfortable. Last time she liked it was riding around on a TW200, then we tried some sport bikes and a Harley, she did not like any of those and stopped getting on. She now has decided she likes the KTM 890 so I guess we have some riding to do before it gets too hot.
Appreciate the follow on/thanks for asking... we had a good day, on the mend and making gains. Seems she had done some homework riding solo and this last outing seemed noticeably more confident and smooth. Happy with her progress.
Ironically she did ask if we could practice some 2-up with the idea of her wanting me to take her out on some the further state wide/interstate rides I do. More to come on that. The Tracer is a very lightly sprung and thinly disguised naked/sport bike, so really isn't up for 2-up duty. Not ready to jump on a more dedicated heavy tourer based on that comment alone of hers but we'll see.
I managed to get her through all the 'optional' riding route I proposed for about 150mi total. She called it an "iron butt"

I didn't burst her bubble on that one since we had a great day otherwise.
@ Colossal Cave: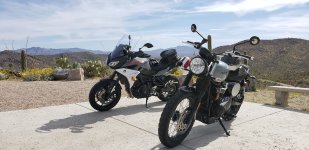 Her Madera Canyon/Mt. Wrightson: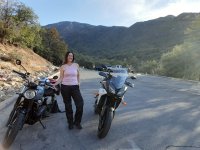 Me, same spot: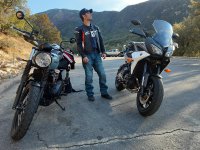 Last edited: