I started
This thread
three years ago.. and I shelved the idea for a bit, added a 34x10' lean-to on the current shop, and tried to make do but ultimately I finally pulled the trigger this spring when COVID arrived and so did sub-3% interest rates.
A 34x28 is bigger than a lot of people have, and I've been spoiled in filling it full of crap to the point where I have to clean a bunch and re-arrange to get a second rig inside to work on, and then mostly limit myself to one end or the other at a time - you all know the drill (and the 10 year racer project occupying the official work bay doesn't help)
I have a 14 year old in the family who will want to drive next year, and given her track record on waking up for school, she'll be driving with a frozen windshield.
Plus my wife complains about parking outside, too..
So I'm fixing that.
I wanted 60x40 like everyone else, but pulled back. I wanted an attic truss, for "free" space, but found out that was as expensive as a second building.
I downsized to 40x40, thinking that would be a reasonable compromise between "heating way too much space" while still having room for a lift-bay and a non-lift bay without getting frustrated.
I picked 16' for the walls, but it took a while to settle on that - I had a few factors for it. One, you can put in a 14x14 door and bring in a motorhome, and while I don't have one like that, maybe that'll change - or I'll buy a semi.
The other was thinking of expansion and what I could do as far as a lean-to or addition. With 16' walls, if I switch from the 5/12 pitch of the main roof to a 4:12, I can get 24' out and still be at 8' of height - or stick with the 5:12 pitch, only go out 12', and still be at 11' walls for a one-car bay with a 9' door.
I started down the path of a pole-building, and while that's what I'm going to do, I probably should have asked more about sitck built.
One of the oddities of the pole-building is the outfit I selected does 4' spacing on the trusses.
One of the things I wanted to add on this building was more solar (I have 6kw on the current shop, last summer's project) - you need to have 3' on either end and the peak for firemen to walk around, so that limits you, and then the truss spacing, so after running some numbers I stretched the shop to 44x40.
One extra truss lets me add another row of panels.
With 44x40 and a 5:12 pitch and 2' overhangs, I can get 6 rows of 5-wide on each side, for 60 panels.
The building runs north south, like my house and my current shop, which means the panels are not facing south, but it also means I can undersize the inverter a little because the east array makes more power in the morning and the west array in the evening - with a big fat broad spot on the curve from 8-10 to 4-6 but never reaching theoretical max.
My current shop has 12 245w panels on the east, and another 12 on the west. Just under 6kw. I have seen peak production of just a bit over 5kw, and that's only on the peak days.
I went with a single 14x14 door. A drive-through has appeal, but I live in Montana, and I'm on the plains - the wind blows. Predominantly from the west. We spend a lot of our time in front of the current shop using it as a wind break.
So I put a single 14x14 door on the east side, to one side. A man door is next to it.
The west wall has zero openings. The south wall will have a single window (facing away from the road and into my field).
The north wall has a man door as well - that was originally going to open into the old shop, but circumstances dictated a change for the better.
So, back in March and April I had to deal with some of the, uh, treasures hidden against the old shop.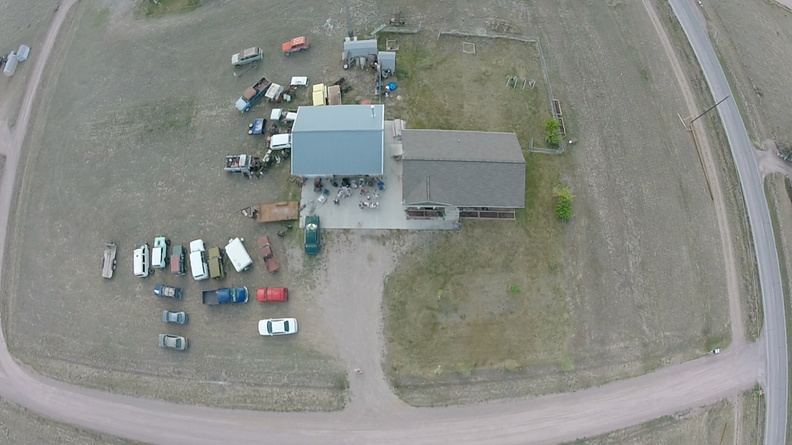 I moved them about and lined them up next to my property line, begging someone to turn me in..
But along the way, I heard my neighbor beating on his truck one night and wandered over to see what was up and ultimately found out he does concrete and his brother does excavating. Score.